What's it like to study in Russia? Why HSE? The answers are, of course, different for everyone. We've asked some of our current international students to write about their experiences, in order to give a better idea of what it's like to study at HSE. If you have any questions, please feel free to contact us at inter@hse.ru.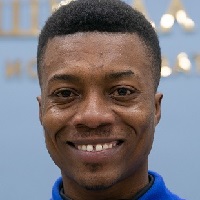 Jibril Richter
Ghana
I never actually thought of going to Russia but when I finished my national service year, which we all have to do in Ghana after getting a Bachelor's degree, I was talking with my friends about where to study next and somebody mentioned Russia. I first thought 'Why Russia?' but my friend who had been to Russia on an AISEC exchange programme told me about her wonderful time here and it got my interest. In my country, people tend to go to the US or UK because we speak English, but I started checking Russia and looked at some scholarship opportunities and really began considering going to Russia. When I told my folks that I'm really going to study in Russia, they were greatly surprised.
Russian is a difficult language but I study a lot because it is very interesting. For me, learning the vocabulary is most difficult. The good thing is that at my dormitory there are mostly exchange students who have already studied Russian for some time so I try to speak Russian with them – this gives me extra practice. I also have a very good teacher at the Prep Year programme. I had to miss classes for three weeks because I was sick and she spent time with me after classes helping me to catch up. It was not easy but I can now speak Russian a bit, which is great.
In the beginning, I had to use a translator app when I went shopping but now I can speak some Russian, so I manage without the app. Russian language is like mathematics - if you pay attention, you get it.
I plan to do a Master's programme in Public Policy here after I finish the preparatory programme, so I'll be staying in Russia for about 3 years. I think by the end of that time I'll be speaking much better Russian! My Master's programme will be in English but I decided to spend some time learning Russian because it is a good idea to learn another international language besides English. It will be useful for my future career because few people in Ghana speak Russian.
So, I'm learning a lot and I'm also learning to be independent because this is my first study abroad experience. It's a challenging experience but very interesting and useful. Overall, I'm having a great time. As for the food, I mostly stick to potatoes and rice because that is closer to what I am used to but I also absolutely love 'pelmeni' (meat dumplings). I eat them with sour cream ('smetana') – very tasty! I tried borsch one time – it was very nice. And I liked 'grechka' (buckwheat) that my roommate cooked with beef. 'Plov' (pilaf) is also very tasty – I always get it when I go to the HSE cafeteria.
I was in Moscow for the New Year and it was truly beyond my expectations. I never thought Russians celebrated New Year like this. The fireworks and the decorations were mind-blowing. Even though the weather was cold, there were lots of people outside enjoying themselves. Some were dressed as Grandfather Frost and his granddaughter, 'Snegurochka' (Snow Maiden). People were congratulating each other and everyone was very excited. I went to the Red Square and I went to a church. I took a lot of pictures and I greatly enjoyed myself. You can't but notice that New Year is a very big thing in Russia. I didn't miss home one bit!