What's it like to study in Russia? Why HSE? The answers are, of course, different for everyone. We've asked some of our current international students to write about their experiences, in order to give a better idea of what it's like to study at HSE. If you have any questions, please feel free to contact us at inter@hse.ru.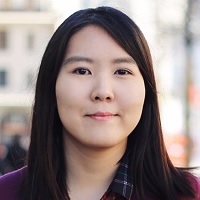 Tsolmon Baldan-Osor
Mongolia
From a young age, as far as I remember, I always watched Russian television. I also ended up graduating from Mongolian-Russian joint school. So, it was quite obvious that in the future I would study in Russia. Not only because of this but I also wanted to get my Bachelor's degree in Russia because I think that studying in the language that you're most fluent in will be better for me. When HSE hosted Olympiads at my school, I learned about this academic institution. At first, I wasn't really interested, but then I did some research and became quite intrigued with HSE and wanted to study here.
At the start, I thought that it wouldn't really be that hard for me to study in Russia, but as time passed I began to notice the differences in people's ways of thinking, culture and opinions. Nonetheless, students and teachers here are really considerate, so it hasn't been too hard on me. There is a buddy system, which has been set up to support and provide help to foreign students. This club has hosted many interesting and fun events, which have helped me in learning new things here. As for the difficulties I've encountered, first of all, there's the language barrier. I do understand what people are saying, but my speaking is a bit lacking. Because of this, I couldn't make friends and I was quite stressed about it. It was also quite hard to adapt to the new environment. This is because, even though Mongolians and Russians are not that different in culture, there are still some differences and, therefore, it was hard to adapt to this new situation. As I'm foreign, I don't often understand the references that other students make and it sometimes this makes me feel left out. Besides, I stay at the dormitory where I share a room with two other girls. So, it was quite hard to share a room with two strangers at first, but they're really nice and it turned out to be not that bad after all.
HSE is one of the top universities in Russia. At HSE, you can study a minor in a subject area that can complement your major. After we graduate, we will have a major and minor, which is really a great opportunity for students. Also, HSE has many other supplementary subjects, which students may choose to study and have them included in their transcript. HSE also has an online library that students can use to read articles from popular research magazines. I also like that we can have IELTS preparation classes and English for Specific Purposes. So, HSE offers us students many different opportunities.
Furthermore, I really like the LMS system (learning management system), where teachers post books that you may need, assignments that you have to complete so you don't need to always ask your teachers. HSE also has many clubs that you can join and these clubs actively host events and games that are both interesting and fun. There are also many other events hosted by companies or by HSE, which may offer many opportunities with respect to both your career and studies. Also, I quite like the lessons because teachers at HSE are really knowledgeable and they teach us both theoretical and practical ways of interpreting what we have learned. However, there's one thing that I'm bad at - it's active participation in lessons. I prefer to listen rather than talk and my speaking is a bit lacking in this regard. As such, this became a bit of a problem for me, but over time I have gradually adapted to this situation.