What's it like to study in Russia? Why HSE? The answers are, of course, different for everyone. We've asked some of our current international students to write about their experiences, in order to give a better idea of what it's like to study at HSE. If you have any questions, please feel free to contact us at inter@hse.ru.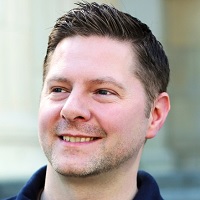 Patrick Whelan
Canada
I've lived all over the world, and was always interested in Russian culture, so I decided to give it a real try by studying here for two years. On top of gaining experience to Russian culture, being able to live and study in a beautiful city like Moscow is a real bonus. I chose HSE because everything I read said that HSE was a top university. However, my choice was mainly dependent on the programme and the Master of Population and Development sounded exactly like I wanted – and it didn't disappoint. And, of course, getting a scholarship to study for free was also a major factor.
Having lived and traveled all over the world, I enjoy immersing myself in foreign cultures. As a Canadian, all the Russians I met seemed very happy to meet and talk with me. I found Russians to be very warm, intelligent and friendly people, often with strange and interesting hobbies. I didn't encounter too many difficulties as a foreign student in Russia, but from what I've heard from others, it takes some getting used to. I am from Canada, so the weather is not so strange for me, but I know that many non-Russians find the long winter to be quite depressing.
I love my programme. In the Master of Population and Development, I feel like I learned how the world works, and so many things that I have seen around the world make more sense to me now. I also love our professors. They are passionate in what they do and they seem very hands-on and approachable making it easy to make connections with them. Thirdly, I love the opportunities that have been available to me at HSE. Every week we are being notified of summer schools, events, guest lecturers, job and volunteer opportunities, etc. In my time at HSE I have presented in two international conferences, have started a research group, have hosted several conferences, have been connected to an NGO for volunteering, and went to Italy for a 2 month internship, all supported by HSE. And, finally, I love the location. Being able to study in the beautiful heart of the city on Myasnitskaya Ulitsa made every day a joy as I traveled to class.
I believe that my education at HSE will give me many benefits. Not only did I learn how the world works through my program, which will benefit me in everything that I do, but the experience of living and studying here, in one of Russia's top universities will give me stories for a lifetime and impress recruiters and academics in my future applications. Also, as an older student who has been out of academia for a while, the approachability of the professors have helped to mold me into an effective researcher and writer, which will also benefit me in all of my future endeavors.