What's it like to study in Russia? Why HSE? The answers are, of course, different for everyone. We've asked some of our current international students to write about their experiences, in order to give a better idea of what it's like to study at HSE. If you have any questions, please feel free to contact us at inter@hse.ru.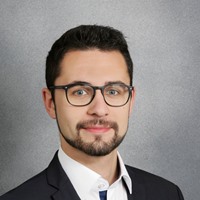 Alex Muller
Germany
Why did you choose to come to Russia?
I'm considering a career focused in trade between Germany and Russia, so it was an obvious choice. My ex-colleague was a former HSE student and he actually recommended HSE University.
Was the application and admission fast and easy or were there some obstacles?
In general, the process was easy, with some complication though because of my foreign bachelor's degree's recognition. However, I'd advise everyone to check five steps on the website and follow them to make the process seamless.
Did you contact the International Admissions and Advisory Centre's staff?
I did. Everyone at HSE Education and Training Advisory Centre and International Admissions is very helpful and supportive, they could answer all my questions quickly and in details. It helped me a lot.
How would you describe your study / classes?
In my Master's programme we are divided into several small groups, which allows our instructors to find a unique approach to every student. What's more, our instructors' practical-oriented approach and valuable insights from their everyday working experience help me and other students to get the first-hand experience from top professionals in the field.
Why did you choose to study at HSE University in particular? Please name 3 reasons.
The first reason is quite a unique study programme. For me it is very important that the programme is practice oriented.
The second is that it prepares you for your real profession. In addition, you can have an internship at one of multinational partner companies. With this experience you will have a great contribution to your resume.
And last but not least is an excellent reputation of HSE University. Also, HSE enters top of the best universities in the world, according to the international rankings, which makes me proud of being a student here.
What is your experience of communicating with HSE students?
I've faced no problems at all since everybody speaks English and is very welcoming. The community at HSE University is very diverse and multicultural.
Can you as an international student access support services available to other HSE students (online library, wifi, etc.)?
HSE University has access to an extensive online library and a big library in the new campus on Pokrovsky boulevard which is open 24 hours. So, if you are uncomfortable with studying at home or in your dorm, you are welcome to come to the library: there are co-working areas for teamwork and silent areas, where you can concentrate most. Wi-Fi is complimentary here, and all students and staff have Wi-Fi passwords and login to join. All other services are available for international students. At HSE, there is a website specifically designed for already enrolled international students.