What's it like to study in Russia? Why HSE? The answers are, of course, different for everyone. We've asked some of our current international students to write about their experiences, in order to give a better idea of what it's like to study at HSE. If you have any questions, please feel free to contact us at inter@hse.ru.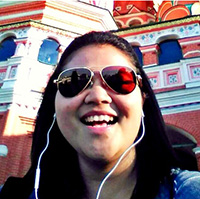 Ratya Permatasari
Indonesia
My reasons for studying in Russia are quite understandable.
An Indonesian student expresses her motivation
Work, work, work, work, work… just like that Rihanna song that everyone knows. Yes, I was working when my brother told me about the opportunity to continue my studies in Russia. And now I'm an international student in a Master's program at HSE.
Unlike some of my peers, I knew from the start that I wanted to study in Russia. There are four main reasons why:
Moscow, the capital of Russia
I knew that I wanted to study in Moscow. As a student with limited Russian language skills, an international city where English is widely spoken is for me the best place to live.
Education and entertainment at the same time
Russia is full of historical and cultural sites. There are many buildings from the Soviet era and newer ones, as well as historical monuments from all different times. The parks and gardens also have their own stories. History is not my main interest but this country's transformation (especially as seen in a rapidly changing city like Moscow) inspires me to learn about Russia's development.
Reasonable living expenses
My brother studied in Russia for three years. Even though he did not study in Moscow, he was still able to help me calculate the cost that I will spend each month. The living cost in Russia is a little bit higher than in Indonesia but it is quite considerable. Of course, it depends on your lifestyle.
Getting out of my comfort zone
Always being in a comfortable place is not challenging. I was ready to live outside of my comfort zone, to feel truly independent, and to force myself to face all realities. I was told that if you can live in Russia, you can live in all other countries.
Russia is home to many leading universities like Moscow State University, Moscow State Institute of International Relations, and Saint Petersburg State University. So why did I apply to the Higher School of Economics (or HSE, for short)?
In addition to the compelling facts and figures that you can find here, HSE offers an English-taught Master's program for my area of studies, international relations. I applied for a program Socioeconomic and Political Development of Modern Asia so that I could improve my knowledge in the area of Asian Studies.
My education so far has been "from knowing to better understanding" rather than "from nothing to something". Over the last six months, I have learned much about East Asia in particular and this in particular helps me to understand what happened in Southeast Asia, especially in my home country, Indonesia.
One more thing I considered before choosing HSE was the dormitory, since after all it would be my home for two years. I was told that HSE had some of the best dormitories in Russia. On the HSE website I read reviews for each dorm, which helped give me a feel for the conditions. Also, the price is quite affordable – I pay around only 1320 rubles per month.
Indonesian people know general information about Russia – it's a cold country somewhere between Europe and Asia, previously it was the Soviet Union, currently the president is Putin, there are funny cartoons like Masha and the Bear, and of course it is the home of matryoshka dolls. But what about Moscow? People know that it is the center of modern Russia, a thriving metropolis, a place that is very Russian and very fast. Apart from these obvious parts, there are some specific features that Indonesians should know about Russia and, in particular, Moscow.
Social Media
Everyone knows Facebook, Twitter, and Instagram. In Russia, people also use VKontakte (VK) to connect with each other. What makes it different? VK has some special features that makes it more attractive, for example, you can watch local and foreign movies dubbed into Russian on the site. For my class, we have a VK group where we post important announcements and information about our department.
Language
For those who have limited abilities in speaking Russian, English enough to get by with in Moscow. At a minimum, most people know some basic words. Surprisingly, I discovered that some people with limited English fluently speak other languages, like German, French, and Chinese. Most HSE students can speak at least one foreign language besides English.
University life
HSE University buildings are everywhere, scattered in various parts of Moscow. The main building is on Myasnitskaya ulitsa (street). I usually spend most of the time on Malaya Ordynka, where I have daily lectures and seminars. Another building is on Shabolovskaya ulitsa. I could explore Moscow by visiting HSE's many buildings.
When I'm not study, I explore Moscow's many attractive places. Nearby Myasnitskaya ulitsa are two of my favorite places: Detskiy Mir (Children's World) and the Kremlin. It sounds strange to include a giant toy store, but there are great cafes and from the roof you can see Moscow in all its beauty.
I think of myself as somewhat of an expert when it comes to culinary matters. After classes at Malaya Ordynka is a good time to have dinner, especially because many of the affordable cafes and restaurants have 20-50% discounts. I like to go to Grabli and Karavaev, where there is a big choice of food and drink.
At HSE, you're never bored. The professors, staff, and students arrange many interesting events and activities to take part in. I have joined cultural events such as Cultural Cafés and Indonesian Day. You may find HSE past and upcoming events here.
Additional information
In this post, I will detail Moscow living costs and show how it is possible to get by on a low budget. I hope that this will help HSE future students, especially those from Indonesia. This is based on my own experience and some information from the HSE website.
Annual costs (8800rub/IDR 1.760.000)
Medical Aid and Insurance 6000 – 7200rub (depends on services)
Being an independent person means having to be well-prepared. I have an insurance plan so that if something happens to me, my plan will help me to reduce the high cost of medical treatments. It is preferable to sign up for a plan that supports treatment at hospitals where English is the working language, for example, at the American Medical Center and the European Medical Center. If you don't already have international insurance, you can learn about your options here.
Visa extension 1.600rub
It's important to register your visa as soon as possible after your arrival. You should also apply for an extension.
Monthly costs (18,000rub/IDR 3,600,000)
Dormitory 1,400rub
Mobile internet, telephone, text450 – 650rub
Transportation cost for metro365rub (discounted cost with Moscow social card)/1500 (regular cost)
Daily meals 12,000rub (depends on the type of food)
Leisure activities 2000rub
Other 450rub
How to get by with a low budget?
First, you don't have to have your own internet plan – instead you can just sign up for a telephone and messaging plan (~200rub). Wifi is available throughout the HSE campus, including in the dormitories. There is also wifi in the metro and on the bus but you have to register your device to connect.
Second, after you arrive in Moscow and are registered, you can get a Moscow social card. This is very useful and can be used a debit card, discount card, and transport card. Each month, for only 380rub you have an unlimited number of rides on the metro.
Third, find a cafeteria or cafe that serves inexpensive meals. Most HSE cafeterias provide this service. It costs only 120rub for a salad, soup, main dish, and drink. For Muslims, a list of halal restaurants is available here.
Fourth, Moscow provides free or discount tickets to visit some places, for example parks and museums. Moscow's metro stations are also like museums and the cost of admission is just one ride fare. Some museums are free year-round, others are free the third week of the month, and some have discount for students. I like to go to the Moscow zoo because it is free for students who show their student cards. You also can join an event or walking tour provided by HSE for free or almost free.