What's it like to study in Russia? Why HSE? The answers are, of course, different for everyone. We've asked some of our current international students to write about their experiences, in order to give a better idea of what it's like to study at HSE. If you have any questions, please feel free to contact us at inter@hse.ru.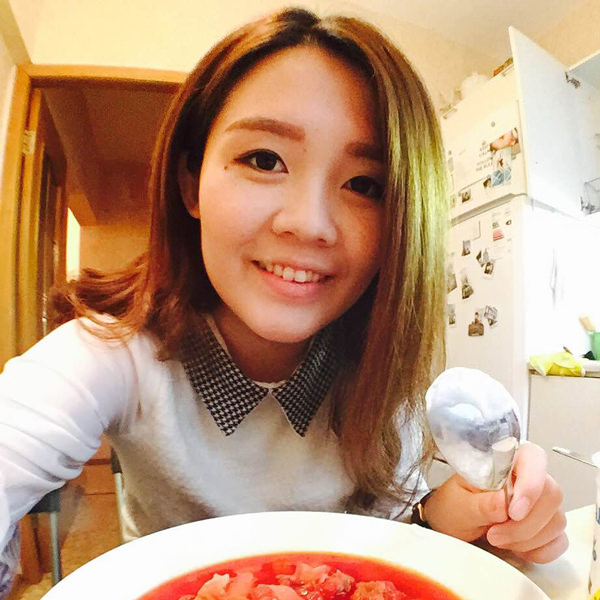 Fan Naiwen
Taiwan
To study in Moscow has always been one of my dreams. Still, traveling alone to a mysterious country for two years can understandably cause you to feel nervous. Before I arrived in Moscow, HSE had planned for a «buddy» to help me settle in. HSE's buddy program organizes Russian student volunteers («buddies») to help foreign students adapt to their new environments and navigate through registrations. After taking the Aeroexpress to Pavelestskaya station, I met my buddy Nastya. She had already helped out others like me and said that she loves to introduce her university to international students. She helped me with my heavy luggage (I was moving here for two years, after all) and together and we entered the metro station. We were obviously struggling with the bags when a man walked up to us and helped us take the bags down the stairs; after that, some other people took the initiative to help us. It reminded me how Taiwanese people always think of Russian people as being «indifferent», «serious» and «cold» — I wasn't expecting to discover on my first day in Moscow how enthusiastic and warm Russians are. My buddy not only helped me to settle in, get familiar with the local area, and register at HSE — she also invited me for a walk along Moscow river, where we caught an exquisite sunset.
The first week at HSE is full of administrative procedures, such as applying for visa extensions and receiving student cards and passes. I was impressed by how smoothly these processes went — it was quite different from at other universities. Explanations were clear and detailed and everything felt efficient. Within a week we had taken care of most of the formalities. This made us feel greatly relieved, since we no longer had to worry about administrative issues and could focus entirely on our studies. Moreover, in the first week, HSE held the orientation session for foreign students. We learned all about studying at HSE, living in Moscow, and other useful tips to help us better enjoy our experience in Russia. My experience that first week gave me a really good first impression of HSE and Moscow. HSE's administrative staff is very helpful, responsive, and efficient, making international students feel safe when they immediately arrive.
Russia is a country with an incredible distinctive artistic heritage, from music to the visual arts to architecture. Strong education is definitely a key factor in what makes Russian culture so beautiful, relevant, and long-lasting. Russia and Taiwan, where I am from, are both highly educated countries, where more than 60% of undergraduate students choose to continue their studies in graduate programs. In Taiwan, most students finish their studies before entering the workplace. In Russia, roughly 80% of Master's students work while studying. Students in Russia must write a thesis in order to graduate and often this paper is connected with their future careers. Thus Russian university students are often proud of their own areas of expertise and call each other «economists,» «legal experts,» «historians,» etc.
Russia and Taiwan have different grading system; Russia uses a five-point scale, with five being the highest and three being a pass. HSE, however, follows a more European system, using the 10-point scale, where 10 is the highest score and four is a passing grade. Just like in Taiwan, at Russian universities they academic year is divided into two semester. But at HSE, the semester is also separated into 2 module. After enrolling at HSE, I did not need to choose courses — our institute's teaching assistant helped me to make my course schedule. We have five hours of courses a day during the week. Usually we need to do presentation for each session and before the end of each module we take a written or oral exam. In contrast, in Taiwan Master's students do not take exams but instead concentrate on research. Different professors of course have different style of teaching. Some prefers to lead interactive sessions while others prefer to deliver lectures and then let students ask questions. Interestingly, I noticed that Russian graduate students love to have discussions with their professors in classroom, something that is not the case for Taiwanese students. Russian students share their own ideas with everyone and are very good at thinking independently. In addition, in order to graduate, HSE graduate students must intern at a company or organization, a requirement that does not exist for Taiwanese graduate programs.
HSE has different dormitories located throughout Moscow. I live in dormitory 4 by the Studentcheskaya metro station. The neighborhood is relatively quiet and our dorm is just a 3-5 minute walk from metro station. You food pass, photo studios, photocopy shops, pharmacies, and other conveniences. Your electronic student pass is necessary for entering the dormitory. On the first floor are laundry rooms and a fitness room. Each floor has two kitchens and two separate toilets for men and women, as well as a study room where students can study. Each room is for two people and they are clean and comfortable.
Compared to Taiwanese dormitories, HSE's are very good. This year there were housemasters on each floor to help students with daily life. Cleaning staff makes sure that the kitchen, toilets and corridors are in good shape.
Living in a dormitory wasn't new for me… but I wasn't used to cooking for myself. Learning how to shop for food and cook wasn't an easy process for me. It's really fascinating to be in the kitchen and to see a variety of exotic dishes from all over the world being prepared by international students from different countries. Culinary exchanges among international students have become characteristic of dorm life. In addition, students at the dorms will initiate some events and invite all the students in the dorm to participate. These activities might be a day trip to the Moscow countryside, seeing Moscow Circus, or visiting one of Moscow's many museums. It's worth mentioning that the environment and atmosphere of HSE's dormitories are much better and newer in comparison to other dorms at other Russian universities and I think it's fair to say that they are among the best in Moscow.