What's it like to study in Russia? Why HSE? The answers are, of course, different for everyone. We've asked some of our current international students to write about their experiences, in order to give a better idea of what it's like to study at HSE. If you have any questions, please feel free to contact us at inter@hse.ru.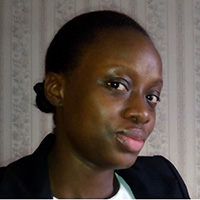 Moriselade Osinkolu
Nigeria
On March 21st, the Public Policy Department's Student Chamber organized a special event dedicated to Africa. The event coincided with the United Nations International Day for the Elimination of Racial Discrimination, which is also celebrated as Human Rights Day in South Africa. The event included presentations of achievements by Africans in literature, arts, human rights and global governance, as well as discussions about the continent's future.
The event opened with an interdisciplinary panel discussion that brought together scholars and specialists on African history, economy and development. Also participating in the panel were representatives from several African countries' diplomatic missions and embassies in Moscow, who spoke about their countries' development and international engagement. The panelists also discussed how Africa can contribute to global stability, peace and sustainable growth.
Each year, HSE holds a career fair for students seeking future employment and internship opportunities. This year, nearly 30 international and Russian companies and organizations participated.
HSE students met with representatives from telecommunications, energy, and consulting companies, as well as multinational corporations, such as Mars, GE, Hyundai, and Pepsico. Many companies participated specifically to hire soon-to-be graduates. Some firms also administered aptitude and problem-solving tests to students. Company representatives answered questions about the corporate culture of where they work and what the application process is like.
"At HSE, students receive an education that provides the knowledge, skills and even attitude necessary for landing a great job," a fair organizer said. The fair also provided workshops and consultations to help students prepare for interviews, write CVs and enter the workforce.
Coming to Moscow to study at HSE is the first time that I have been out of my country, Nigeria. I feel incredibly fortunate to have received a scholarship to earn a Master's degree in Russia.
With this scholarship, I am able to study in a program that is unlike anything that is available in my country, in terms of the topic and standard of education. At HSE, I have learned how to work with people from different countries and how to understand cultural differences.
There are African students at HSE from many different countries, including Nigeria, Ghana, Kenya, Ethiopia, and Uganda. Because classes our taught in English, it is easy to adapt to the study environment and fully participate in the interesting classroom discussions. Our professors are always ready to hear different opinions and I feel that my comments and contributions are valued.