What's it like to study in Russia? Why HSE? The answers are, of course, different for everyone. We've asked some of our current international students to write about their experiences, in order to give a better idea of what it's like to study at HSE. If you have any questions, please feel free to contact us at inter@hse.ru.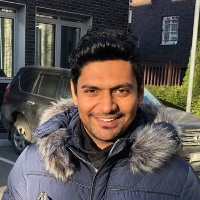 Rahul Mishra
India
The best thing about being at HSE University was the cultural amalgamation that I experienced. HSE University has a healthy tradition of promoting intercultural events for students from different countries. Another amazing thing is the teachers who have industry experience and guarantee a practical approach in our courses.
HSE University is international friendly. My previous university was based close to New Delhi and only had local students. HSE University, by contrast, has international faculty and students from all over the world. Also, it is engaged in major collaborations with large companies, which regularly hold open workshops and seminars so that students can gain insight into their respective industries.
HSE University also helped me take part in a live consulting course with Henkel during my first year, where we worked on a consulting project with the company's professionals and helped them develop a new sales differentiation model.