About the Project
The Study Tour Experience is a unique worldwide project intended for undergraduates who are keen on finding new discoveries and ready for taking part in experiments, as well as willing to expand their horizons through new opportunities. This project offers a wide range of interdisciplinary courses with a particular focus on obtaining in-depth expertise in such fields as economics, international relations, business and management, law and finance, communications, psychology, social and political sciences.
Those who have already graduated as well as students in the senior years of Bachelor's studies are welcome to participate.
Language of instruction: English

Format of participation: online / offline
Terms and conditions for taking part in the Study Tour Experience
No participation fee.
Candidates shall be selected on a competitive basis with motivation letters.
The programme includes:
two-week instruction in one of the selected fields.
Applications are accepted until:
The results of the competition will be made public no later than 8 November
Fields of Study
Contacts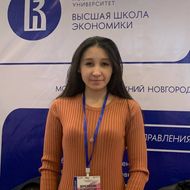 Luiza Rakhimova
Дирекция по работе с молодёжью за рубежом: Руководитель проекта