New Opportunities for International Applicants: Get to Know HSE University Online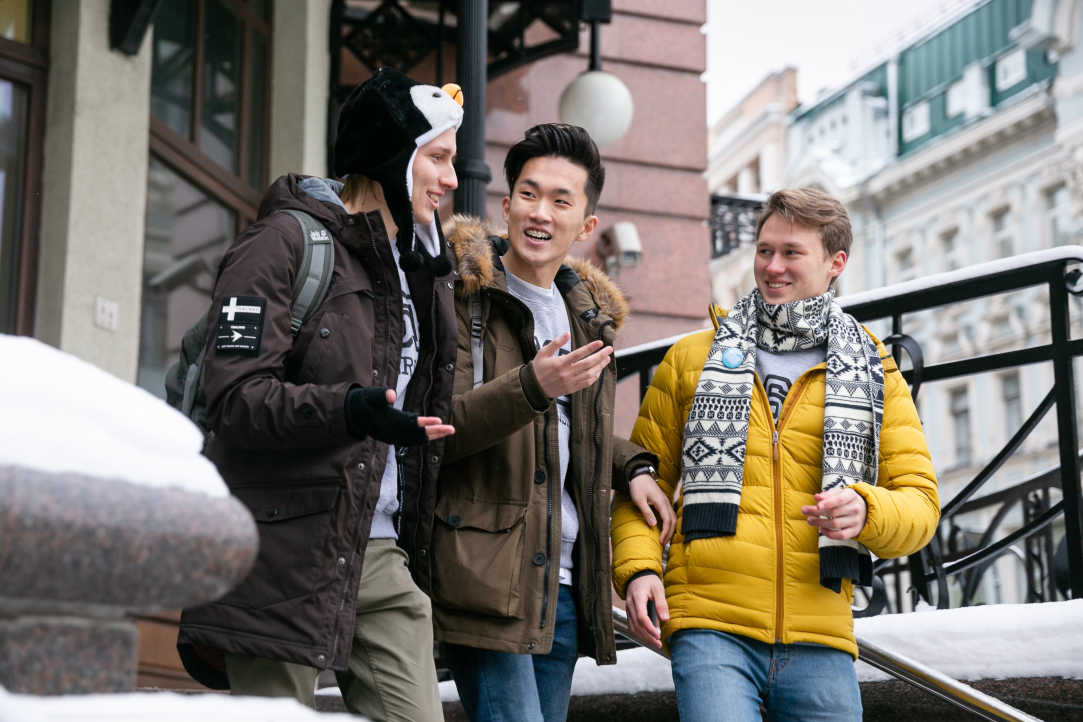 The universal transition to online learning has opened new opportunities for international applicants to get to know HSE University. Below, Deputy Vice Rector Marina Kozak outlines the programmes and opportunities available at HSE that help applicants choose an educational track and assess their capabilities.
Every year, we try to launch new programmes – they help international applicants learn about HSE and the variety of Bachelor's and Master's programmes it has to offer. They get to know the university through direct interaction and activities, rather than simply from word of mouth or information on the internet. All our programmes provide personal assistance, advising, and support in choosing the most suitable academic programme.
The border closures have expanded the geographic diversity of our participants thanks to the opportunity to travel virtually via Zoom or MS Teams. International applicants can attend lectures at any HSE campus and any building. So, what new opportunities do we have to offer our international applicants?
This programme is a kind of a test drive – it is a short-term study experience for prospective Master's students. They study at HSE University for a week, attending online classes in the programme of their choice. Study Tour helps them get a better sense of the courses taught at the programme, the teachers' requirements, and their potential classmates, and it also helps them prepare for writing a motivation letter.
Participants of the recent Study Tour, which took place from November 23 – 28, could choose programmes at different university campuses in five areas of study: Finance, Economics & Data Analysis, Business & Management, Global Economy & Politics, Finance & Law, and Marketing & Communications. The former three areas offer tracks in Russian and English, and the latter two in Russian. 75 people took part in the programme: they were selected upon consideration of their motivation letters, from 35 countries, including India, China, Guatemala, Honduras, Italy, Latvia, and the CIS countries.
Previously, Study Tours were organized on campus, which meant they were available only to international students who were already studying at a bachelor's programmes in Russia or were able to fly to Moscow for two weeks from visa-free countries. Now, there is no need to spend the time and money on travel. Furthermore, there are no temptations from the big city to distract them from their classes.
Olesya Maystrenko, Project Manager, provides support to all Study Tour participants from the moment of application to the end of the tour.
Olesya Maystrenko, Project Manager
Study Tour gained more from the online transition than it lost: we went beyond the local market and have attracted participants from far-away countries. Now, the project involves not only the Moscow campus, but all HSE campuses; and within those, students can attend lectures in different buildings.
The next Study Tour will take place from February 15 – 20, 2021. Probably, in the future, we will also suggest this form of introduction to the University for Bachelor's programmes as well.
Class Experience is another opportunity to attend online classes of HSE's Master's programmes. Class Experience is a new project that was launched last month. It is based on a format typical of European and American universities, when a prospective student attends one lecture, immerses themselves in the university atmosphere, and talks to students.
We had planned to implement this project as an on-site programme at the university, but it has been successful online. In November, 20 lectures were attended by applicants from 13 countries, including Germany, Turkey, Honduras, CIS countries, and others; there were equal shares of English-speaking and Russian-speaking participants.
Olesya Maystrenko, Project Manager
As part of Class Experience project, you can attend any lecture in any area of studies at any HSE campus. The lecture will be selected according to the applicant's requirements. For example, if you want to study computer science, you can choose between Master's programmes taught at MIEM, the Faculty of Computer Science, or the Master's prorgramme in Business Informatics at GSB, and I'll help you find the lecture that best suits you.
The programme lasts until April. To participate, please complete the online application, indicate your areas of interest, the dates and times you are available, and wait for a response via email. Starting in January, it will also be open for prospective students of Bachelor's programmes.
Anyone interested can take a mock test in their field of choice: there are tests in Russian, Mathematics, History, and English. Complete the form and you will receive an email with links to the mock assignments.
Testing provides an opportunity not only to assess your skills, but also to understand the specifics of assignments' contents. For example, secondary school curricula in mathematics differ from country to country, and some of the topics that are considered important in Russia may not be covered in schools of other countries.
Since the beginning of this academic year, about 100 students have taken mock tests in English, and about 700 in Russian; last year, these figures were 629 and about 3,683, respectively.
Sign up for a Zoom consultation to not only receive assistance in choosing a programme, but also learn about grants and scholarships available to foreign citizens. At Zoom Consultations, you can learn about the rules of admission, get advice on how to prepare the necessary documents, and ask any other questions. Individual and group consultations are organized for applicants of Bachelor's and Master's programmes in Russian and English; they are offered in addition to other communication tools (phone, email, WhatsApp, etc.).
The next group consultation will be held on December 10 at 4 pm by a representative of the HSE Graduate School of Business. He will talk about their Master's programmes, as well as international student admissions.
This project is designed for Master's programme applicants and will run until the end of July, 2021. To take part, select a faculty and complete an online application form, selecting one or more programmes of interest from the list, and upload your portfolio documents. After that, you will get an invitation from the programme representatives, who, after the interview, will provide preliminary feedback on your portfolio.
The point of the project is to assess your capabilities in advance. Last year, during a two-month period, 57 applicants participated in the project, and 17 of them were eventually admitted to HSE University.
The Russian Federation and HSE University offer scholarships and grants for international students that offset their annual tuition costs. Use our calculator to determine which grant you can receive and the amount of the final fee: select the exams you are going to sit and enter approximate points based on the assessment of your knowledge.
Take the 'Which Master's programme is right for you?' quiz and find out which one suits you best.
This project was created for international Bachelor's students, young professionals, as well as everyone interested in business development, entrepreneurship, investment, and new technologies.
International applicants and their parents are welcome to contact the HSE Education & Training Advisory Centre. You can get a personal consultation on how to enroll in HSE programmes or take part in the Olympiads by e-mail inter@hse.ru, phone +7 (495) 531 00 59 or WhatsApp +7 (916) 311 85 21, as well as on social media in Russian and English: VK, Facebook, Telegram and Instagram.
Feedback from Study Tour Participants

Luisa Maria Criollo Delgado,
Ecuador, 'Finance, Economics & Data Analysis'
The HSE University Study Tour was an exciting experience. I attended different lectures and learned about topics ranging from Economics, Corporate Finance to Investment in Equities.
I am currently enrolled in two specializations from HSE University on Coursera. The first thing that got my attention was the high quality of the lessons and innovative component in all the courses. The teaching method that the proffesors use in these online courses is the best to achieve deep understanding of the subject.
I learnt about Study Tour Experience from an email received from the Education & Training Advisory Centre of HSE University. I checked the programme website and I saw that it was an interesting opportunity. So, I registered on the website and sent my motivation letter.
Since the first day, the lectures were on advanced subjects. However, the professors explained the material in a clear and easy to understand way, which facilitated the learning of subjects that are normally complex. Nevertheless, it would probably be a good idea to combine lectures of various levels and during the week and to increase the level of the subjects progressively. I think that way would be easier for the students to learn new subjects and become familiar with the teaching style.
I would like to thank the entire HSE university team for generating projects like this. This is a wonderful opportunity, which allows students to see the university from inside the classroom. This was a key experience to encourage me to apply for a Master's degree at HSE University. Therefore, I am currently preparing my portfolio to apply to the full-time master's programme in Data Science. I would love to be an HSE university student so I will do my best to be admitted to this master's programme.

Adina Beysembayeva,
Kazakhstan, 'Marketing and Communications'
The week went great, starting with the very friendly Alexander Sharikov and ending with an interesting lecture on product management. During the week, I got an impression (a positive one!) about how the university works. I got interested in several programmes that I had not considered before. In addition, I realized that I need to improve my English. Thank you very much for the opportunity to become part of the study process! This is a great project to look at the university from the inside and see if it is right for you. The lectures were interesting, informative, and of high quality. The lecture on social media analysis was exceptional. We got so much new and useful information. Thank you! I hope to come back as a student.