What's it like to study in Russia? Why HSE? The answers are, of course, different for everyone. We've asked some of our current international students to write about their experiences, in order to give a better idea of what it's like to study at HSE. If you have any questions, please feel free to contact us at inter@hse.ru.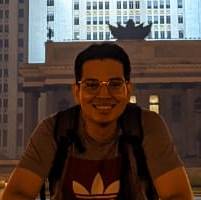 Raul Medina
Honduras
Why did you choose Russia? When did you first hear about HSE university?
Originally my aim was to study in Taiwan with a scholarship but I had to wait for one more year for enrollment. After that I became interested in an MBA programme at any high-quality European university but one of the most common requirements was to have at least 3-5 years of relevant job experience, which unfortunately I didn't have.
After some time I became curious why nobody in my environment was talking about Russian universities. While surfing for QS World University Rankings a lot of Russian universities showed up on the lists for MBA's programmes. And I decided to apply to Tomsk State University and got accepted very easily (by the way, the requirements for documents submission at HSE were exactly the same) but then I read that HSE University has better Faculty of Business and Management and the location itself – in Moscow – of course is much better for my future job opportunities.
What experience did you have when first got in touch with HSE's staff?
Faculty and admissions staff is very friendly and respond to any message within one day. I was actually shocked by how much they really cared and helped me. I want to thank everyone for being so helpful and understanding.
Was the application and all the admissions process fast and easy or there were some obstacles?
The admission was quite easy, to be honest, just gathering all the required documents again was the tricky part – I had merely 2 months to prepare everything.
How would you describe your study / classes?
Classes are nothing out of the extraordinary, it's your typical MBA programme with the same theory that any other top quality university would teach in the world. I'm not amused.
What is your experience of communicating with other students at your programme?
Being an expat or what Russians would call "an immigrant" is a kind of a tough experience, they seem to not be exposed to many things at first or it could be just an age factor, who knows, whatever, I got used to the Russian mentality and now everything is good.
Can you access support services available to other HSE students (online library, etc.)?
Yes, but I don't use them very often, our lecturers provide us with all the materials needed.
Why did you choose to study at HSE University in particular? Please name 3 reasons.
I chose HSE University because of future prospects of career from one of the best universities in Russia. Qualification from the faculty also played an important role – I wanted to get the first-hand experience from the leading experts in business. The next reason is valuable employability skills, as I've mentioned above, Moscow is a city full of great opportunities that booster your career and help you to become a real professional. And the last reason is low tuition fees for such a top-ranked higher education institution and its programmes.